What's been in Bob's Garage: my favorite cars.
By Bob Friedrich
Lately I have been thinking about the cars I was able to own that were special to me. I have not included all my daily drivers, but focused on the ones that I had a special connection with. I have arranged them more or less in a chronological order. The Cadillacs and Corvettes I have arranged in a group as I feel it looks nice and it brings them into the one car family.
I have put together a little bit of story for each car. What it meant to me, the circumstances and other fun bits. Most of the pictures are from the internet as I did not have photos of my many cars. The images I picked are as close to the color as I could find.
1959 MGA
This is one of my first real cool cars. I bought it from a high school friend Tom. It had a blown engine and cracked windshield. Working as a bus boy at the Regina Inn, I got a used engine from a wrecker a Riley engine. The MG dealer on Broad street did the install to get it back on the road. As always it was fun scouting out the right engine to match the specs on the MGA.

The 59 had spoked wheel knock offs. At the time another friend Dale had a beautiful Maroon MG. Not having a ton of money each weekend, I bought a permit and took my girlfriend out running out of permit time Saturday 12 at night. It was a wonderful summer car.
1939 Olds Coupe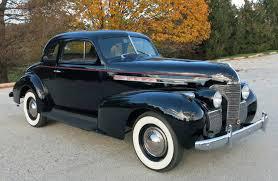 My memory is a little foggy on the exact time I bought this car sometime after the MGA. I found it in the Rosemount area in the Crescents. It had been hot rodded with an Old's Engine and a 4-barrel carb. The Olds came with a homemade floor shifter no power shifting. It made for a lot of guessing and pulling no quick shifting process.

Once home, I painted it by rattle can, a blue not as nice as the one shown. Then I had the carb rebuilt at the White Rose Service Station on Winnipeg and Victoria Ave. It went like hell. One day forgetting to button down the hood and showing my buddies how it went the front hood blew back denting the roof.

The coupe was cool with little jump seats in the back. I traded it for a Suzuki trail bike which was a lot of fun but loud. I got heck from a neighborhood father after test driving it for a friend at 2 in the morning. Boy was he mad. My Uncle Rudy had two of these and after his passing his son phoned me and offered me one at five grand a great deal. I did not have the cash my regret.
1947 Chevrolet Fleet Master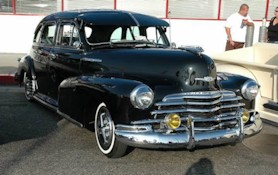 This car came to me through a buddy. One of my friends called it the Army staff car. It was black and again the rattle can black paint came in handy. As well so did white sidewall paint a type of rubber compound. It passed from my hands in an unremarkable way. It was a good runner.
1964 Pontiac Super Sport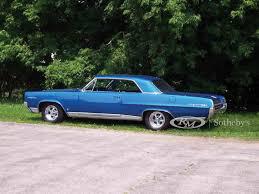 This car I bought off a lot on Albert North it was a Super Sport. It caught my eye at the time it looked like a really nice car and was cool. But like so many cars then it was 6 years old and had the sparkle, but not brand new. In those days a car that was a few years old lost its appeal too quickly. I enjoyed the bucket seats, console shift, and imitation convertible top. The color of the model I found is close, but mine was a little lighter color. Just loved to drive it to the beach especially for a late-night run.
1967 Pontiac Parisienne Convertible 396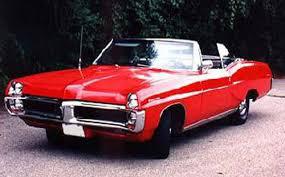 This was my first muscle car but not really of the type you would expect. The color is correct Red. It had a 396 with a 4-barrel carb. It was a lot of fun. When all of my friends and I would go to the beach the girls would get their hair tangled up, so much fun. One favorite sport in winter was to tie a rope to the hitch and pull a friend along in the ditch on a pair of skis and boots I got from my cousins in Minnesota.

We would have the top-down heater going watching behind like water skiing. One friend Mike took a header in the snow thank goodness he did not hurt himself. It was a great outing. This became our tow car for the SIR Race track when we got the 62 Acadian as a race car. It even had a white whale painted on its side when my brother took it over. It said Have Yee seen the White Whale, a quote from Herman Melville ...Moby Dick.

As I had the Jaguar people thought that it was the white whale. My brother was an English major who loved Moby Dick. During a big flood in Regina, I drove through pools of water with the whale running perfectly along the top of the water. People loved it.
1962 Acadian Bracket Race Car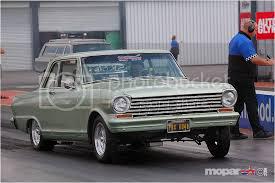 My brother and I bought this car together and worked on it with friends. The best time we got was 13.5 in the quarter mile. We dressed it up from there adding a better carb, dual point distributor, cool can, M and H slicks and a bunch of other fun stuff.

But the best time was never achieved or bettered again. We had tons of fun, bought a trailer and we were owners of a race car. The car had reverse shifting pushing forward to each gear with a 4500 stall B and M Torque converter.

It was a lot of fun going up to SIR and racing, being in the pits and watching the lights go down the Christmas tree. Burn outs were great. I drove it on the street with street tires. Once a guy at the lights challenged me, I hit it the car slid sideways then the posi locked up wow, but I never took it on the street again. Too much, too dangerous.
1954 Jaguar Mark 4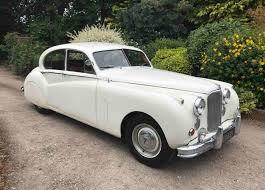 I bought this car for very few dollars. It was really rusty and needed a pile of body filler. In those days a painter from Western Autobody did the work filling it with lead. The thinking was better than bondo as bondo was new.

A fun car I did the tranny at Downtown Automatic, Bevan helped me. It was a Borg Warner tranny he did it for 300. My total investment was less than 1000, I think. I traded it to the Jaguar below from a colorful guy named Reg Valerie (check spelling). My best story was during that first winter I had three accidents all not my fault. But each time a north American car hit me it was like a mosquito bouncing off a tank.
1959 Jaguar Mark 9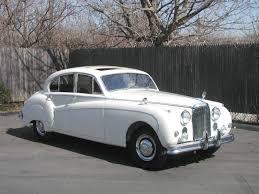 This is my second-best car to the 61 Vette I owned. I got married in this car and drove it through most of my school years at U of R. I loved it, I felt like a million dollars. It was like driving a Rolls only affordable. I worked on the engine head with a friend Brian Hooker a real race car, skidoo and motorcycle driver. He is one of the coolest guys. The car had folding picnic tables in the back seat, leather sunroof and walnut dash and trim. My best story is putting a hitch on it and pulling my ski boat heads turned.
1961 Corvette Convertible and Hardtop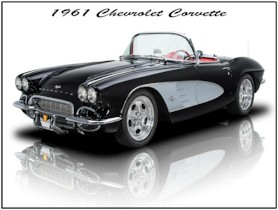 This Car is my favorite. I have a model car of the exact colors I had painted it. I bought the car from a kid in Moose Jaw who brought it up from the US after college. I painted it black and silver for the Majestics car show. I had worked for Kaufman's just before the show so I got some furniture and signs emulating a beach scene. It was fun.

I did not win anything but the judges liked the car I am told. I got great feedback from the crowd and friends. I used to dream about owning the car after I sold it to go back to school. It came originally with 1100 three-barrel carb too much so I switched it out for a Holly 660 CFM. I sold the 3 barrel. It was not the fastest, but it did have a 160-mph speedo which I can say worked well especially up Lumsden hill.
1969 Corvette Stingray 427 - 3- two-barrel Carbs, 4 speed manual transmission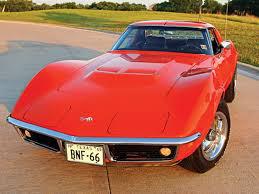 I traded my Cougar XR7 Convertible on this car. It was a great car. It had 3 two-barrel carbs, and a 4-speed manual transmission. I remember shifting out of second gear at post 90 miles an hour. It also had a posi trac rear-end. The color shown is correct. I traded it off in winter after spinning off the highway passing a car on a curve coming up Lumsden Hill.

We were passing at about 80 and I let the gas off and the Posi started pulling on one side sending us into a spin. We completed the pass, but spun to the side of the highway. I saw dry pavement coming up thought for sure we would roll. The car had a tremendous low center of gravity, we just spun nicely to the shoulder of the road facing oncoming cars. All was good what a ride. But testing it further that winter on ice I found it unsafe even on city streets traded it away.