Previous Page << 1 2 3 >> Next Page
What's been in Bob's Garage: my favorite cars. By Bob Friedrich
1973 Cadillac Fleetwood Brougham
This car was huge and bullet proof. I drove it for a number of years. It was the first of three Fleetwoods. I had. The car even had the little foot rests- limousine style. I had very few issues with it. It was this exact color a real land yacht. I paid nothing for it, but everyone thought it super expensive. I even had a friend borrow it for her wedding car.

My best story is I was on my way in winter to Winnipeg for business and I got a flat rear tire. I was close to Moosemin. I pulled over no cell phone days. I was in front of a farm yard. I started walking up the drive then noticed some dog prints in the snow. They were big. As I got closer, I heard these deep woofs. I thought I could see hounds coming down the drive. I turned and ran down the drive knowing my wife was probably asleep in the warm car and I would be mauled to death trying to get in.

Well, I got to the car door locked and got her awake, but no dogs they long stopped down the drive. I had tried my spare earlier, it deflated so I got in and slowly drove on the shoulder.

A few minutes later a red cop light came on. The French Canadian RCMP officer was everything you could want in a police officer. He took the three kids into his car we waited for the tow truck. I could hear in his French-Canadian accent "I have a big Fleetwood on the highway" followed by a request to come get us. I loved that moment. We ended up with new tires from a dealer he knew and stayed in a nice Motel. Next morning with new tires a good sleep we were off in the Big Fleetwood.
1983 Cadillac Fleetwood Brougham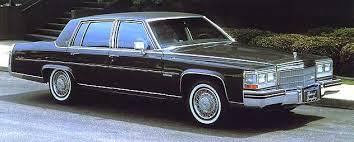 This was another of the three Fleetwoods I would own. I always loved the look of these cars. Earlier I had tried to buy a few of them but they were out of reach. I bought this car from a dealer friend trading some everyday vehicles. It was super cool. It had the plush seating and temperature setting AC and a hood ornament every kid wanted to steal. I had to wire it in so it was not taken. It was real luxury. The car was originally owned by a Gene Chuka the franchise holder for Kentucky Fried.

I drove it for a few years traded it for a Sunbird convertible for my wife. I can remember driving to the country dealer where the Sunbird was and the check engine light came on as these bad babies were so under powered. This was not the first time that that light came on any big climb or pushing the gas bang on it came and off it went. All in all, it was a cool car to own.
1988 Cadillac Fleetwood Brougham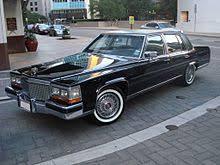 This car I bought from a neighbor. It came from California and had low mileage. I drove it always wanting the hood and trunk painted as they were faded from the California sun. One day a guy hit me way in the back totaled.

SGI paid me a huge number I bought back the salvage and a friend repaired it. It was so reasonable to fix I could have both the hood painted and trunk. As far as a financial investment it was a car that kept giving back. After a few years I finally sold it at auction for a modest price. An older gentleman bought it it's still Rollin around town.
1982 Cadillac Seville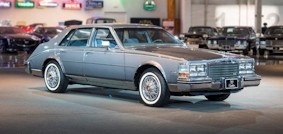 I first saw the first edition of the Seville in the Edmonton motors show room. I just wanted one. I later saw this newer model there also. I bought the car from a young fellow in Regina. I had it for a few years but it was riddled with issues.

One day I was dropping off some recyclables and it would not start. A neighbor came out and told me he loved the car. I said its yours 280 dollars it won't start. He bought it right there and I was so happy. I took the bus home and bought the 88 Fleetwood the next day. But a lot of people loved that car. I can remember we were at an event and a Senator looked at the car and said I want to ride in that car. Little did they know we might not make it anywhere ... lots of trouble.
1971 Triumph TR6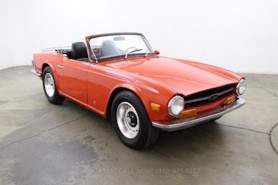 This car was one of the cars I owned the longest, for almost 14 years. I loved it as a summer car and drove it all the time each and every summer. It cost on average 500 dollars plus a year in repairs to drive given the electrical was Lucas and the car a leaky British sports car it was amazing fun. A real head turner and the best of all it was cheap to buy relatively speaking and in the end it I sold it for more than I paid but still a modest price. Not a money maker but nice compensation.

I loved buying OEM parts from eBay, driving it till late fall, and starting it up each Spring. A lot of guys dream of owning a summer car, but never do it. I was able to drive this car for years at moderate prices and have tremendous fun. I only took it once on a longer trip to a golf tourney. The trip both ways was sunny and with my leather suitcase strapped to the trunk luggage rack a dream come true.

In those days I worked downtown and really could not afford my own parking spot. After the Army and Navy closed, I use to park it in their partially enclosed garage. Many times, the downtown rubbies were there drinking Listerine. I would say fellas look after my car and they did.
1984 Porsche 924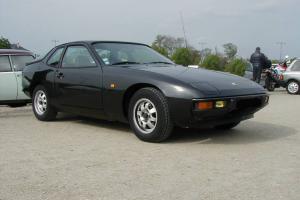 Again, foolin around trading cars I got this Porsche. I came home with it. To my surprise my three sons were ecstatic. I later found out that I was on a beer salary and owned a Champagne car. I traded it for a truck we used in our business. My best story is one of the boy's teachers said to someone those people can afford anything. Little did she know we were just ordinary folks with a guy who liked to trade cars around. The Porsche was dirt cheap. Its amazing what a car can do for your image.
1982 Chevy Silverado Truck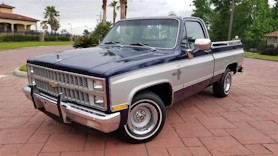 I traded the Porsche to this truck my colors were a brown over a sun burnt yellow. It was a great truck for a number of years for our business. We even converted it to Propane. My best story is once we filled up with Propane and drove to Calgary for 19 dollars and change. Those days are gone.
2006 BMW 325 Xi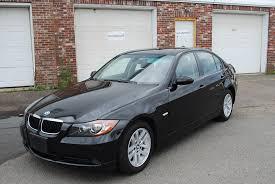 Again, I loved this little car. I got it through a trade from a dealer friend. Its amazing once you drive a BMW everyone thinks you are doing well. My best story is I just had it for a day or so in the summer. I went to the Casino to meet buddies for breakfast and the battery died.

At first, I thought well I will just open the door -locked, then I tried the key locked. Heh am I locked in this puppy on a hot day and the car was black in and out.

I sat their cell in hand thinking do I break a window ouch. Then I remembered on the dash was an emergency button very discreet. I pressed it open Sesame. I got out a little relieved called my Buddy Jay a BMER guy. He said do not boost from Battery. Bad things happen. I then got the hood open and there were the two boosting points. With CAA I was off and running.
Mercedes Benz 560 SEL 1989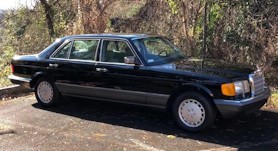 This car has the dubious honor of being the car which I physically had the least possession of excluding the Lincoln Town car which I never actually saw. This is a story of folly and deceit. I had wanted to have one of these beasts for years. I finally spotted one in Edmonton and there is the beginning of the folly and story.

I called a friend of mine not really experienced in cars. I thought the deal was really good so I said go over and have a quick look. He did and said it was really sweet. He was not a car guy. He loved the owner and thought he was a champ.

I wanted to close the deal so I sent a check along before I actually saw the car. Mistake number one on my part. I took the Hound when it was still running, it was an overnighter with many characters on the bus and late-night bathroom stops quite the tour. I was totally beat arriving in the morning. My best friend picked me up and off we went to pick up the car.

Upon arriving and getting out of the car and looking at the Benz I knew it was bad. It's amazing some cars are 20 footers and some are 1 footers. This was a 20-footer all I saw was the truck painted with rattle can black ouch. I was in a bind he had the check; my friend was so proud; it was a bomb. I sucked it up and took a quick look got the keys gone.

Driving it around town after getting a permit I stopped a few times and the idiot lights lit up like a Christmas tree ouch. The Dash calmed down I thought I could live with it. Off I went down to Calgary on the highway. I engaged the cruise control and whamo the thing shifted into low gear. I could not get it out of low gear. I drove for awhile at highway low speed to keep up with traffic. It was getting hot. I stopped it cooled it down and I headed to the car auction.

I put it in the auction. I felt a little bad about the tranny but felt maybe if it cooled down it would be okay. The car sold for a paltry sum. The new owner drove it to Redeer and discovered it was a salvage car the old dude had snickered me. The car went back and resold for even less. Now I was mad I had a few chats with the old guy who sold it to me. Then I sent a nice legal letter giving him a good break. He took a cold shower and sent me the small compensatory check and book was closed on owing a Benz. But the trouble is I find myself still browsing Craig list Vancouver for Benz's some guys never learn. Chalk it up to experience.
1978 Goldwing Gl 1000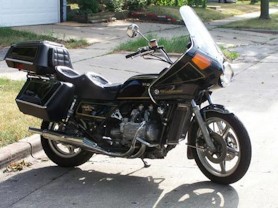 I had to include my current bike which I have had since 98. I bought it from a couple in Moose Jaw. They got it as a wedding present put 19k on it over the 20 years they owned it. I spent some good money on it great memories driving to the mountains. rainstorms, near crashes, running off the road in Banff, hail storms, late night scary drives home from Alberta. As well lots of cruises with buddies and friends. The best drives have been soul rides with just me. For some reason not having to worry about another person and to stop and drive at your pleasure is the best.
1972 Suzuki 400 Trail Bike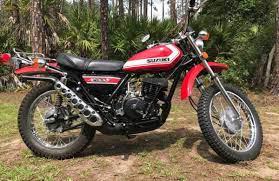 This was in way my favorite Bike off roading is really the best way to see the country. I bought it brand new from Mercury Marine Sales in the old GM garage. I was so proud of it. It went like crazy with the single lung. I tried a bit of racing pretrials, but a trail bike is not really the right bike for motor cross. So much fun.

One time a friend and I toured the back areas of Moose Mountain. We discovered old museums; stone houses left by the Remittance Men of England with even the pool table left behind to rot. It was the best ripping over the fields and down the highway.
Previous Page << 1 2 3 >> Next Page