Previous Page << 1 2 3 >> Next Page
What's been in Bob's Garage: my favorite cars. By Bob Friedrich
1975 Corvette 350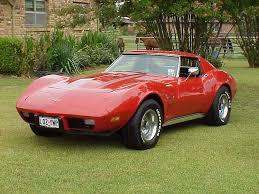 After getting married and feeling my Jaguar Mark 9 was too much for me to own. I worked with a dealer who sold it for me and gave me cash and this lovely 75 Vette. I liked the car. I drove it for awhile but finally sold it.

My best story is we were at a lake visiting my father in law's road construction business. We had decided to take a dirt road back to camp after dark. As I was driving along the dirt road, I got this feeling something big was in the middle of the road. Suddenly this big bull turned his head and I saw his eyes like crystals staring back at me. Boy was that close. Plastic car and a bull a mess avoided. I sold it later to a young fellow. It was a great reliable car.
1989 Corvette Convertible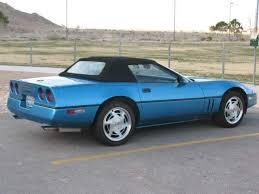 This is my current ride. I bought it late one fall from the owner who was tired of it and gave me a great deal. I have had it for 8 years now and enjoy it every summer. The C4 model was a good seller, but far behind the C 3 one of the biggest sellers.

I do see a lot of C4s on the road today. It is not a power house as GM cut back on its horsepower producing some 250 horse power. But the car handles well on the road a kind of race car feel.

I took it on a road trip to the St Paul MN for a family reunion. I did enjoy passing, but as for comfort not the greatest. The great thing about it, parts are reasonable, and its fun to drive. I also enjoy the many after market suppliers who have tons of parts to jazz it up. I would describe it as a daily driver. I had a good painted super reasonable so I do not freak too bad when I get a scape etc. I would like to change the carpets and the seat covers. Its fun to drive a real summer car.
1972 Cougar XR7 Convertible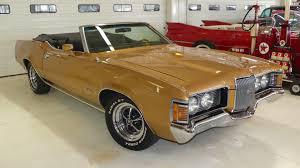 I bought this car late September at the Cooksville Auto Auction in Mississauga Ont as a car I would fllp. On the way back, I picked up two Buddhist nuns and almost hit a Moose somewhere before Thunder Bay. I was really surprised how nice a car it was. I drove it for few weeks and traded it onto the 69 Vette.

I must say it was tons of fun and I drove in complete comfort. As with most cool cars I thought it had class, but little did I realize it would be a great classic. I was fortunate to own it for a while. I have not seen many at shows. It was well appointed, drove nicely and the top worked great. It was a great car to drive for awhile that fall when the weather was nice.

On another note, I also road in one when in London England a guy I met from Canada had exported his Cougar to show off in the old country Czech I think we cruised London one night in the 1972. Quite the ride.
1974 Lincoln Mark 4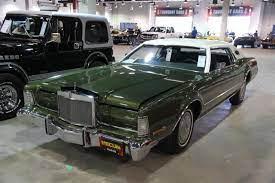 I owned three Lincolns one I never saw, but made a few bucks on. It. This model I bought in Edmonton and brought back to Regina sold it. I also had a brown one and a gold one.

The best Lincoln was a Town Car with 1500 k I never saw the car, but sold it on the word of friend to a dealer who took my word it was mint. It was. He phoned enroute home saying it was better than he even expected. He paid me in advance what I my profit was and bought the car direct from the owner. Wow He told me King Pharouc never had such a ride.
1974 Ford half ton with what was called a hip pocket, Ford called it the Super Cab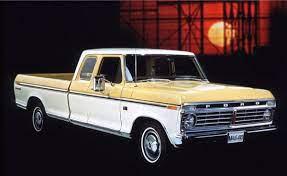 I had to include this half ton it was a great truck I had for years with a beautiful truck camper to match. My best story is I was driving it to Moose Jaw one day. I had my Doberman in the back seat. Rebel was his name and he was an extra large one. I stopped to pick up this old man on the highway.

As we drove along he told how he dealt with people who gave him a hard time. As he spoke he pulled out a knife and was showing me the blade. I got this very creepy feeling and then Rebel woke up and leaned his head over the front seat. The old guy jumped and said you never told me you had a dog in here. He folded up his knife and in a little while I dropped him off. Bullet dodged I will never know but thank goodness for Rebel and the hip pocket in the Ford.
1956 Chevrolet Townsman Wagon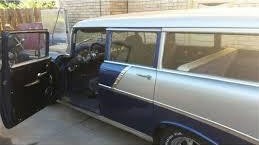 This was one of two 56 chevys I owned. I bought this from a friend for 1400 and he made money on it. I kept the car for 3 or 4 years. One morning I was driving my kids to school in early fall. A young teacher hit me on the rear quarter her fault. Her windshield completely frosted over. She was distraught I was so thankful. It gave me an opportunity to paint it classic silver over blue. The car sparkled a lot. Guys thought it was a Nomad because the colors were so good. I even drove it to work when the temperature was minus 40. I had in the garage it growled and bang it lit up.
1956 Chevrolet Belaire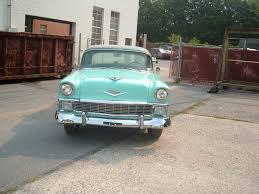 I bought this car because I thought it was so cheap. The car was in Melville Sask. I started driving it home and the carb was so bad it hopped along. But eventually it smoothed out. I had a lot of fun finding a new carb. Eventually good old Auto Electric just rebuilt it in Winnipeg for a modest price.

This was after a lot searching, EBaying's the wrong one and other hassles. Sometimes the answer is right before us. I sold the car in a snow storm and the young fellow completely did it over painting the bumpers and all. It was cool. I was tempted to buy it back but thought better.
1969 Cadillac Eldorado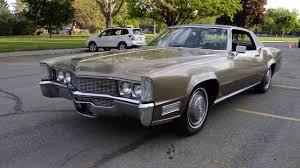 I like to say my uncle Rudy was a Cadillac salesman in Edmonton. He had a ton of great car stories and owned a nice collection himself. I told him if he found a good car, I could flip to call me. He phoned and said he had this one owner Eldorado come get it. I did and drove it for the summer.

I put it in the Western Producer for 3 times what I paid and an oil man from Stettler phoned. I delivered the car, but first he took me to the RCMP Depot they ran a check and whamo he gave me a check and dropped me at the Bus.

I got to Edmonton. My uncle was stunned but I bought his 65 coupe Deville Caddy and drove it home. I did well with it also. My best story with the car is one night in summer in the middle of the night the horn sounded off waking everyone. I got up pulled out the wires to the horn. An after thought maybe it was the alarm, but I never had a car with an alarm before.
1976 Cadillac Eldorado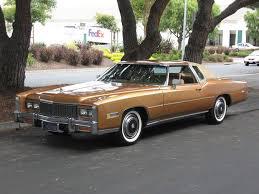 I bought this car for a good price. In those days a car that was 5 or 6 years old sold very reasonably. I paid 4 k for it. I drove for a 6 to 8 months. I must say it was in nice condition and ran like a dream, I sold it for a good buck and was thankful for the ride and the beauty it had afforded me. A lot of people loved the colors and the luxury it offered was something.
1965 Cadillac Coupe de Ville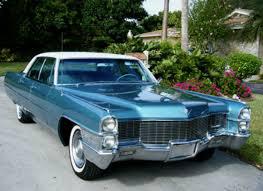 This was my aunt's car. I bought it from my uncle in Edmonton and drove it home. It was a nice car to drive and off it went. At the time these Caddies were just becoming a little rare. The color was very close to one featured here.
Previous Page << 1 2 3 >> Next Page